Copyright © 2017 - 2021 Bad Knee Bikes
Easily Mounted Hand-Crafted Bicycles with Electric Assistance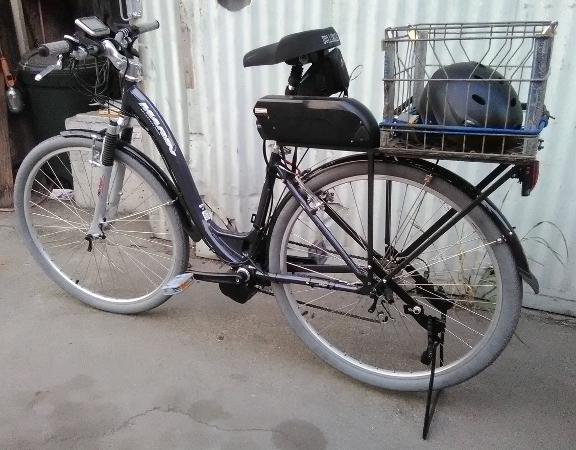 Bad Knee Bikes was founded by a life-long bicyclist who got injured and couldn't mount his bike. So, he built one he could ride while he recovered. The response from the biking community in the San Francisco Bay Area was strong and so, now you can get one, too, and tailored your needs.
AT RIGHT: A BKB Bronze with Marin-frame, 700C wheels, 2" tires and a no-pedaling-at-all range of around 25 miles, and with a theoretical assist-with-pedaling range of over 90 miles. Max measured speed is a little over 25 MPH, and over 20 MPH with grocery loaded trailer. The wire basket, not included, trailer hitch, kickstand & tool pouch optional.
PLEASE NOTE THAT THIS WEB SITE IS STILL UNDER CONSTRUCTION! We're Bike People, slow at computer things! Bear with us, we'll have it all neat and tidy soon...
Feel free to call us at 510-717-6942, and please note that we're in the Pacific Time Zone. You can also email us at Sales@BadKneeBikes.com.
---
Bad Knee Bikes is dedicated to providing quality bicycles for the discerning bicyclist.
---
---
Read Our Terms & Conditions. and our Terms Of Service.